Elevate Your Experience
In the realm of the skies, there's a space reserved for the exceptional. At Aeroventure, we don't just offer private aviation – we craft a journey that transcends the ordinary. Every flight is more than a destination; it's a dream realized.
Unparalleled Luxury
Experience the Exceptional.
Our fleet represents the pinnacle of aviation luxury. Step aboard and immerse yourself in an environment where every detail is tailored to your utmost comfort.
Efficiency & Precision
Time is the Ultimate Luxury
With Aeroventure, every moment counts. Our commitment to punctuality ensures that your time is respected and maximized
Global Reach
Your World, Without Boundaries.
Our extensive network means you can travel to the farthest corners of the globe, seamlessly. Wherever you envision, we'll take you there.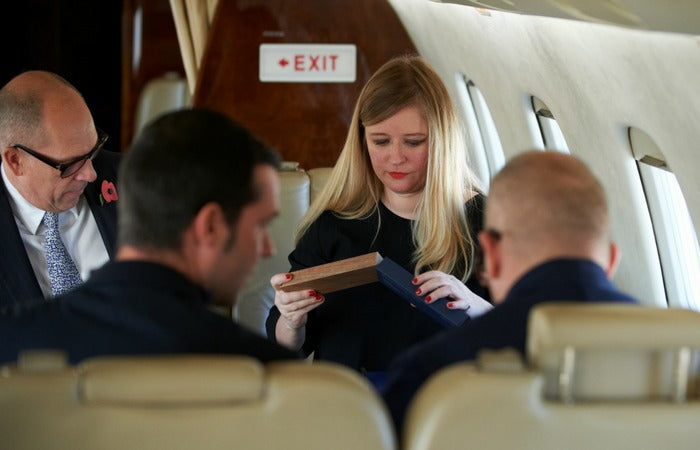 Safety & Peace of Mind
Fly with Confidence
Your safety is our paramount concern. Our fleet is maintained to the highest standards, and our crew is trained to handle any situation with utmost professionalism.
Follow us on instagram
@globalgroup.llc
Quintessence of luxury, where comfort meets security and peace of mind.
Hear from Our Esteemed Clients
Testimonials
With Aeroventure, every flight feels like a dream. The luxury, the efficiency, the specific attention to detail is something that is important to me.
— Alex R., CEO
Traveling to challenging regions has always been a concern for me. With Aeroventure, I felt safe and well-taken care of, even when flying to the most remote destinations
— Sarah, International Journalist
Booking a flight to a challenging region in the Middle East was seamless with Aeroventure. Their local expertise and coordination made the journey smooth and worry-free
— Lisa, NGO Director
Frequently Asked Questions
Get answers to your questions here.
How does Aeroventure ensure the safety of its private flights?

Safety is our utmost priority. All Aeroventure aircraft undergo rigorous maintenance checks and our pilots receive continuous training to ensure the highest standards of safety.
How can I book a private flight with Aeroventure?

Simply reach out to our dedicated team through our "Contact Us" page or "book a flight". We'll guide you through the seamless booking process.
Can I customize my flight experience?

Absolutely. At Aeroventure, we believe in crafting unique flight experiences. From catering to onboard amenities, let us know your preferences and we'll make it happen.
What is the range of destinations Aeroventure covers?

Use this text to answer questions in as much detail as possible for your customers.
What types of passengers does Aeroventure accommodate onboard?

Aeroventure is open to hosting a diverse range of passengers, including Politically Exposed Persons (PEPs) and other high-profile individuals. However, it's crucial to note that we operate in strict adherence to international codes and standards. Any individual on an international sanctions list will regrettably be denied boarding.
How does Aeroventure's private aviation differ from commercial flights?

Private aviation with Aeroventure offers unparalleled luxury, privacy, efficiency, and customization. You have the entire aircraft to yourself, can choose your own schedule, and enjoy a tailored flight experience.
Are there any luggage restrictions on private flights?

Luggage restrictions vary based on the aircraft type. However, one of the advantages of private aviation is the flexibility it offers in terms of luggage. Our team will provide specific guidelines based on your chosen aircraft.
Can I choose the aircraft I want to fly in?

Yes, based on availability and your requirements, you can choose from our diverse fleet of state-of-the-art aircraft.
How does Aeroventure handle flight cancellations or changes?

We understand that plans can change. Our team is committed to providing flexibility and will work with you to accommodate any changes or cancellations based on our policy.
I need to travel to a remote location in Africa or the Middle East. Can Aeroventure assist?

Absolutely. Our specialty lies in facilitating flights to complex regions, including remote locations in Africa. With our extensive network and expertise, we ensure a seamless journey to even the most challenging destinations.
What makes Aeroventure unique in the private aviation sector?

Aeroventure specializes in flights to complex and challenging destinations, particularly in Africa and the Middle East. Our expertise in navigating these regions sets us apart, ensuring our clients reach their destinations safely and efficiently.
Are there any additional safety measures for flights to challenging zones?

Yes, flights to challenging zones often require additional safety and logistical preparations. Aeroventure takes all necessary precautions, from detailed pre-flight briefings to coordination with local authorities, ensuring your safety at every step.
I have a medical condition. Can Aeroventure accommodate medical needs during the flight?

Certainly. Aeroventure offers the option to medicalize flights based on the needs of our passengers. Our team coordinates with medical professionals to ensure all necessary equipment and care are available onboard.